16inch Plastic Tasla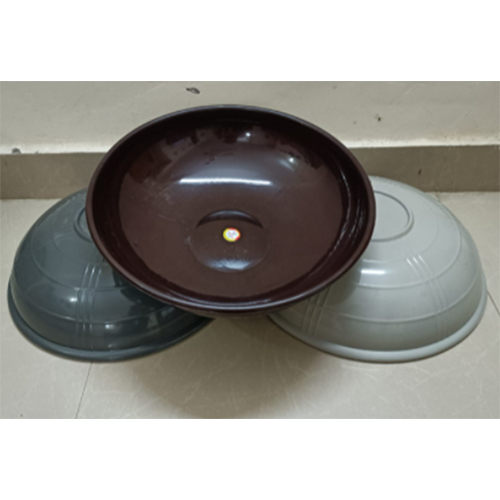 16inch Plastic Tasla
Product Description
We are providing supreme quality 16inch plastic tasla. It is used for washing clothes, soaking and plantation purposes. Our offered product can be found in gardens and bathrooms. In addition to this, this offering also finds its usage in homes for storing or keeping bulk material. It is appreciated for strong structure and maximum storage capacity. 16inch plastic tasla can withstand heavy load and bad weather conditions. This product is extremely light in weight. You can plant more than 1 plant in this product due to its spacious nature. It comes in different colours and sizes.
Holding a client oriented approach, we are manufacturing and supplying a wide range of 16inch Plastic Tasla. Best known for its durable quality and light weight, this plastic tasla is commonly used in agriculture, dairy industries and construction business. Checked on various stern parameters, this tasla is widely demanded to cater the variegated requirements of the domestic sector as well. The 16inch Plastic Tasla is manufactured using finest grade plastic material procured from our trustworthy vendors.
Features of 16inch Plastic Tasla:
Easy to clean
Excellent abrasion resistance
Fine finish
FAQs of 16inch Plastic Tasla:
Are 16inch plastic taslas stackable?
Numerous 16inch plastic taslas are intended to be stackable, permitting them to be effectively put away when not being used.
Are 16inch plastic taslas appropriate for conveying fluids?
Indeed, 16inch plastic taslas are regularly utilized for conveying fluids like water, cleaning arrangements, or different fluids because of their release safe plan.
Could 16inch plastic taslas be utilized for food capacity?
Some 16inch plastic taslas are food-safe and can be utilized for putting away dry merchandise or even fluids, yet consistently check the item naming for sanitation data.
Are 16inch plastic taslas simple to clean and keep up with?
Indeed, 16inch plastic taslas are by and large simple to clean with water and gentle cleanser. They are impervious to stains and can be cleaned down for speedy cleaning.
Could 16inch plastic taslas be utilized for modern purposes?
Indeed, bigger plastic taslas are frequently utilized for modern purposes like development, stockpiling of materials, and transport of weighty things.