8 L Pedal Dustbin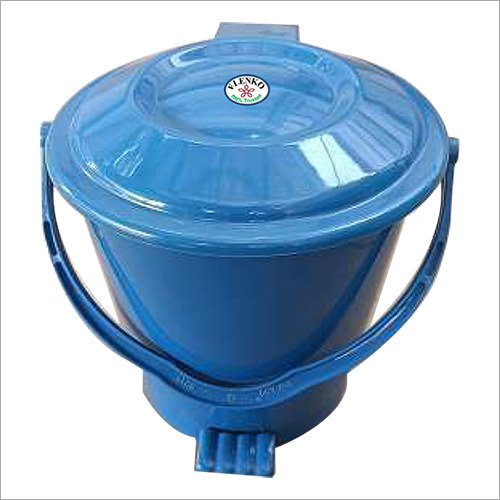 8 L Pedal Dustbin
Product Description
Get this premium quality 8 L pedal dust bin from us in different finishes and colours. It is used for dumping garbage at homes, offices, schools and other several other places. Our offered product has a sturdy handle and lid for covering purpose. The said offering is easy to carry. It has maximum storage capacity and longevity. 8 L pedal dust bin prevents hovering of flies and germs. As the name suggests, the container has a pedal at the bottom which is pressed by using foot for opening the lid without even touching it. This product is good for maintaining hygiene.
8 L Pedal Dustbins are mostly used in many places like hospitals, hotels, offices, homes etc. We are the prominent manufacturers, exporters and suppliers of Pedal Dustbins. These are manufactured using high quality raw materials. These Pedal Dustbins don't hold up the escalation of germs or mold that reduces the needs for frequent cleaning. These dustbins specially designed to keep environment and surrounding clean. These products are highly appreciated for its features like easy maintenance and long service life and these features make it the first choice product of our customers in the markets. We manufacture these bins in various shapes, sizes and designs in accordance with the specifications given by our customers. They can avail these products at very cost effective prices within very short delivery time.
We are manufacturer and supplier of high-quality 8l pedal dust bin, from Hisar, India. We are manufacturing and supplying 8l pedal dust bin, to various cities like, Varanasi, Allahabad, Mumbai, Nasik, Pune, Nagpur, Raipur, Ghaziabad, Noida, Greater Noida, Faridabad, Delhi, New Delhi, Sonipat, Panipat, Jaipur, Neemrana, Ambala, Pontasahib, Jammu, Agra, kanpur, Lucknow, Gorakhpur, Ranchi, Patna, Rohtak, Jhansi, Dehradun, Haridwar, Moradabad, Meerut etc.
We are designing optimum quality 8l pedal dust bin which is popular in the market for its sophisticated structure. It is housed with a pedal for easy opening and closing of the lid. In addition to this, the said product also has a sturdy handle for lifting purpose. This offering is integrated with a tight cover for hygiene, so that flies or germs stay away from the garbage. 8l pedal dust bin has extremely light weight and maximum storage capacity. Our offered product is easy to open just with a single press on the pedal. It is largely used in the home kitchens for throwing trash. This item is prepared using top grade plastic material. It is highly durable, compact and attractive in appearance.
Features of 8 L Pedal Dustbin are:
Robust structure
Light in weight
Durability
Resistance to corrosion
Cost effective
FAQs of 8 L Pedal Dustbin:
What is a 8 L pedal dustbin?
A 8-liter pedal dustbin is a small-sized squander holder intended for discarding waste materials. It typically includes a pedal component for sans hands activity, allowing clients to open the lid with their foot.
What materials are 8 L pedal dustbins produced using?
These dustbins can be produced using different materials like plastic, stainless steel, or even metal with a powder-covered finish. The decision of material frequently influences durability, appearance, and simplicity of upkeep.
What is the reason for the pedal system?
The pedal system enables sans hands activity, advancing cleanliness and lessening the spread of microorganisms. Clients can open the lid by stepping on the pedal, without contacting the container with their hands.
Where might I at any point utilize a 8 L pedal dustbin?
These dustbins are suitable for different settings, including kitchens, restrooms, workplaces, rooms, and different regions with relatively small measures of waste. Their minimized size makes them ideal for spaces where a larger canister probably won't fit.
How would I clean and keep up with the dustbin?
Cleaning strategies differ in light of the material. Plastic containers can be cleaned down with mild cleanser and water, while stainless steel receptacles might require special cleaners to keep up with their sparkle. Regularly vacant the container, and think about utilizing liners or sacks to forestall direct contact with the waste.