Regular Flower Pot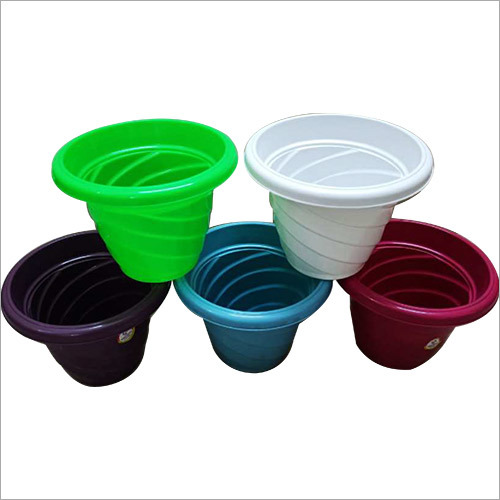 Regular Flower Pot
Product Description
We as a leading manufacturer, trader and exporter of our domain, bring forth a superior assortment of Flower Pots. Our range comprises stone flower pots, outdoor flower pots, indoor flower pots. Our range of flower pots are known for enhancing the indoor beauty of home, office, school, colleges and the likes. These flower pots not only beauty the ambiance of any room or place, but flowers kept in these pots spread natural aroma and fragrance. Owing to various significant features like durable, innovative designs, aesthetic look, etc, our range is widely appreciated and demanded by clients. Available in different shades and sizes, we present these stylish flower pots at industry leading price.
The classic style and organic hues of this Regular Flower Pot compliment both indoor and outdoor plants. Because of its timeless appearance, it may be used everywhere. It is light and extremely strong because it is made of plastic. For conducting outdoor container gardening on your patio, porch, or deck, this Regular Flower Pot is excellent. Even with soil inside, it makes it easier to move the container about. You needn't be concerned that it will break or crack when lifting it because of the sturdy plastic.
A regular flower pot is an essential compartment intended to hold plants and flowers. It commonly comprises of a round and hollow or tightened shape with an open top, a base with waste openings, and might incorporate a saucer to get overabundance water.
FAQs of Regular Flower Pot:
What materials are regular flower pots produced using?
Regular flower pots can be produced using different materials, including dirt, plastic, artistic, earthenware, metal, wood, and, surprisingly, biodegradable materials. Every material has its own advantages and contemplations.
What sizes do regular flower pots come in?
Regular flower pots arrive in a scope of sizes, from little pots reasonable for spices and little plants to bigger pots for bushes and little trees. Pick a size that obliges the development of the plant's underground root growth.
What are the advantages of utilizing a regular flower pot?
Regular flower pots give a straightforward and successful method for developing plants in both indoor and open air settings. They take into consideration simple plant care and support.
Do regular flower pots have seepage openings?
Numerous regular flower pots accompany seepage openings at the base to forestall overwatering and guarantee appropriate waste. This forestalls root decay and other water-related issues.
Will regular flower pots be utilized for both indoor and outside plants?
Indeed, regular flower pots are flexible and can be utilized for both indoor and outside plants. Make certain to pick a pot material that suits the planned climate.